In short order, our entire housekeeping operation has been completely transformed. Since using Optii, we've been able to improve all of our procedures resulting in a dramatic 25% increase in efficiency in our housekeeping operation overall. This has not only led to higher employee satisfaction, but better service for our guests.
About Q1 Resort
Rising above the Gold Coast skyline, Australia's tallest residential tower, the Q1 Resort and Spa commands unparalleled panoramic views of Surfers Paradise and the Pacific Ocean. Reflecting a modern design of glass and steel inspired by the Olympic torch and the Sydney Opera House, the resort features a total of 526 sleek, spacious one, two, three and four bedroom and penthouse luxury apartments with unique glass enclosed balconies. The resort is recognized for its highly acclaimed day spa and its famous SkyPoint beachside observation deck perched 77 floors above ground and offering a 360-degree view of Brisbane to the north, the Gold Coast hinterland to the west, Byron Bay, New South Wales, to the south and the Pacific Ocean to the east. A prime location surrounded by lush landscaping, it is just steps from the beach, and the nearby tropical rainforests and bustling local attractions of the city.
The Challenge
Having opened more than 15 years ago, the Q1 Resort and Spa was accustomed to traditional and manual hotel operating procedures that had been in place since opening. First and foremost, they were lacking a formal reporting and tracking structure for their housekeeping operation.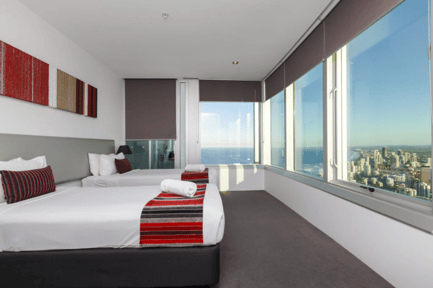 With multiple apartment sizes and configurations, the housekeeping routine was time consuming and inefficient, regularly adding unnecessary work to an already over-extended team. The cleaning and turnaround times per room were both much higher than the hotel was staffed to handle and cost the hotel more than necessary in labor costs.
The team was specifically looking for a solution to eliminate too much downtime between cleans. And lastly, they wanted a system in which they could ensure a high level of excellence in their cleaning standards for their luxury apartments.
The resort's leadership recognized that to attract and retain their guests and maintain their ranking as one of the top five hotels for value in Surfers Paradise, it was time to make changes as part of their commitment to service excellence for their guests.
The Solution
More than 4 years ago, the team at Q1 was referred to Optii as a housekeeping operations solution. Q1 knew that the Optii Housekeeping platform was the tool they needed to address their challenges in tracking housekeeping room attendant progress and status. After a quick and seamless implementation process, they were able to quickly gather reports on housekeeping productivity in real time and in summary per attendant. The reporting detailed moving around times per attendant, and even standards of cleaning. This data provided the actionable insights that allowed the Q1 Resort and Spa to transform their housekeeping operation by identifying areas of improvement, training as needed and creating more efficiencies.
Optii's intuitive platform features AI predicted cleaning times by guests, allowing for more efficient and accurate planning and monitoring. The tool allows the housekeeping manager to identify inefficiencies in real-time, and to follow up on unproductive periods. With Optii, Q1 Resort and Spa was able to centralize operations for full visibility and therefore, less downtime, faster turnaround times, and improved team productivity.
The Results
"We cannot express how significantly we improved our housekeeping operation once we partnered with Optii and implemented the Optii Housekeeping platform. From the very beginning, we realized an immediate impact through the detailed summary and individual attendant reporting," said John Wilder, General Manager at Q1 Resort and Spa. "In short order, our entire housekeeping operation has been completely transformed. Since using Optii, we've been able to improve all of our procedures resulting in a dramatic 25% increase in efficiency in our housekeeping operation overall. This has not only led to higher employee satisfaction, but better service and higher standards of cleaning for our guests."
The team at Q1 Resort and Spa has noticed a considerable improvement in the entire housekeeping department operation. With Optii, the resort has been able to decrease the cleaning time by apartment more than 30% and improve the department's monthly salaries and wages by approximately 20%. The real-time reports provide the insights they need to maintain the highest productivity, with greater efficiency.
Additionally, with improved cleaning and turnaround times, the housekeeping team has been able to reduce the number of required supervision hours, thus reducing overall labor costs.
With clear visibility into their housekeeping process, and a formal structure around their operation, Q1 Resort and Spa continues to see marked improvements in overall staff and guest satisfaction, maintaining their position as one of the top places to stay in Surfers Paradise on the Gold Coast.
About Optii Solutions
Optii, headquartered in Austin, TX and with offices in London and Brisbane, is a hotel operations solution that leverages smarter technologies such as artificial intelligence, analytics, messaging and mobility to improve the efficiency and effectiveness of housekeeping and service delivery departments. Optii operates in real-time and allows hotels to streamline operations, reduce costs and enhance the guest experience in proven and tangible ways, without requiring capital expenditure and complex integrations.
Optii is used by hotels across the world including La Cantera, The Don Cesar and Nemacolin in the United States, Okada Manilla Resort & Casino, Le Meridien, IHG and more.
About Q1 Resort & Spa
Experience the Gold Coast's most elite and exclusive holiday apartments, staying in Australia's tallest residential resort tower at the multi-award-winning Q1 Resort & Spa. Tower over the glitz and glamour of Surfers Paradise in a self-contained apartment with a fully equipped kitchen and marvel at the sun-kissed glow of the iconic foreshore, buzzing with restaurants, cafés and world-class entertainment.
This incredible high-rise oasis puts the glittering lights of iconic Cavill Avenue and the SkyPoint Observation Deck at your fingertips with an impeccable list of facilities to keep you entertained, including two outdoor lagoon pools, a fully equipped gym with heated indoor lap pool, saunas and steam rooms.
Our private resident's lounge with 12 seat cinema and purpose built Day Spa with 10 treatment rooms are luxury epitomized.
Plunge into Surfers Paradise from the iconic Q1 Resort and Spa and you'll never want to leave.
Ready to learn more? Check out our Optii Journey eBook where it walks you through a day in the life of a property using Optii.